Getting reviews is what businesses appreciate because it helps them navigate how they improve their products and services. In other words, reviews serve as a roadmap for businesses, whether that's good or bad. As for us, The Inspection Boys, we appreciate every review we get online—to know the pulse of the people.
The Inspection Boys is one of the leading home inspection companies in Long Island, and we put a premium on our relationships with our clients because they are one of the reasons we want to offer our best when it comes to home inspection.
Our excellent relationship with our clients has resulted in The Inspection Boys having an excellent reputation in Nassau, Long Island, and other places we offer our home inspection services. We intend to maintain our excellent reputation because it only means that our clients trust their choice as the home inspection company. In addition, we will continue to improve our home inspection services to serve people better. Thus, we do not want to compromise our home inspection services because there is no room for mediocrity in our home inspection company.
We are proud to announce that we have reached the 400th mark of reviews we have received on Google Reviews, and this is an achievement we want to celebrate with everyone. We want to continue to improve so that more and more people will experience our excellent home inspection services in Long Island. 
Here are some photos that you want to see how The Inspection Boys are doing in the Google Reviews: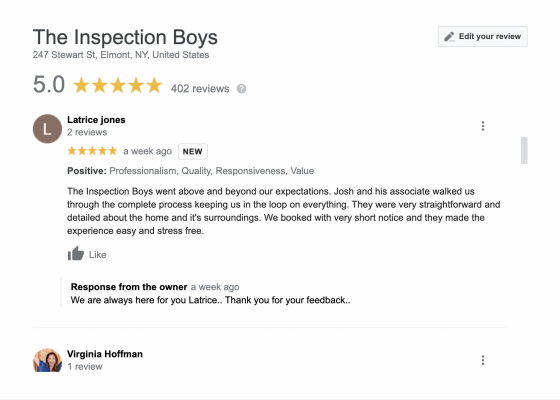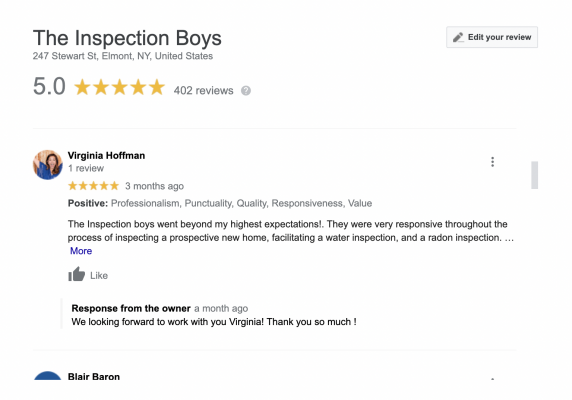 The whole team of The Inspection Boys is honored and grateful for the love and support that people give through the reviews we receive on Google Reviews. But, of course, we can never do it without clients because they are our inspiration and motivation in our home inspection company.
(You can also check our previous milestone of reaching the 300th mark of Google Reviews here.)
Key Takeaway
Now that The Inspection Boys has received 400 Google Reviews, we look forward to going the extra mile for the people who need our home inspection services. Once again, we thank everyone for making this happen. Meanwhile, you can search us on google by typing for those who would like to give us reviews. "The Inspection Boys Nassau, Elmont, NY.," and give us your reviews. It is our joy to read your reviews. We assure everyone that we respond to whatever you say.