Today we will be talking about creating DIY Christmas decor ideas, but let us take a short memory trip towards how we used to celebrate Christmas as kids.
Christmas comes once a year. For many of us, this is our favorite time of the year, mostly when we were younger. It is a season where there are Christmas decors everywhere. Also, it is a season of gift-giving and family gatherings.
Christmas is the season to be jolly; however, many of us will agree that 'tis also a season for spending money. Decking the halls could be pricey!
Christmas ornaments and decors add up to the holidays' festivity; however, store-bought ornaments and decors come with a price. But can you imagine Christmas without the Christmas tree, without the colorful socks hanging around the house, without the mistletoe, the candy canes, bells, garlands, or without the lights? 
But the good news is that we can still have these Christmas ornaments and decors without spending much of our bonuses. Why buy expensive decorations when you can do it yourself? You can even recreate the decorations that you have kept from last year's Christmas! With some items that can be found at your very home and a little creativity, your Christmas will surely be a season to be jolly! It is fun to create DIY projects with your family, especially this Christmas season. Here are some DIY Christmas decorations that are easy to do:
Dried Citrus Garlands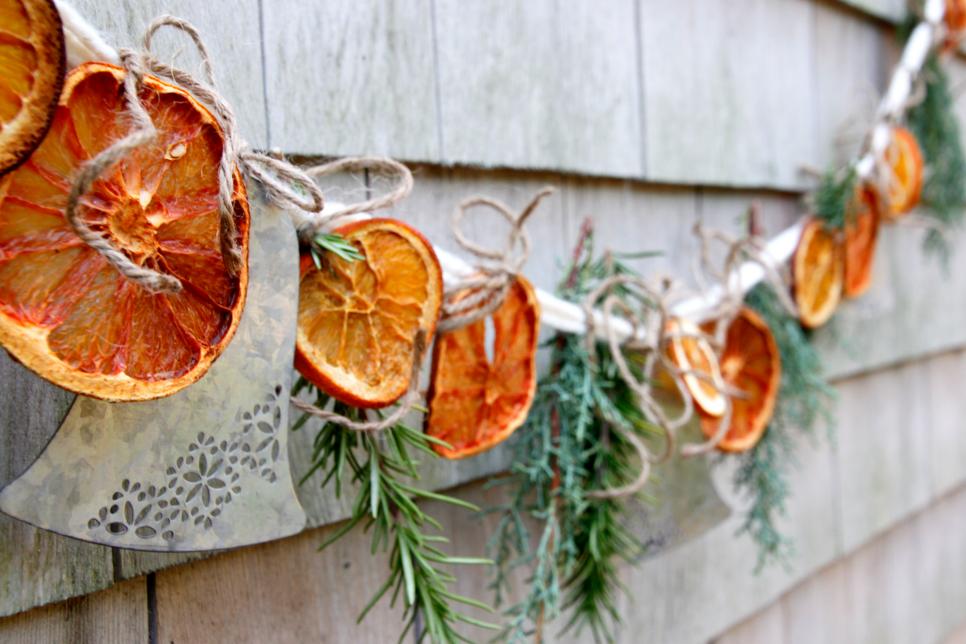 (source: hgtv.com)
The smell of citrus in the air can give you the "Christmasy" vibes all over your house. But did you know that you can make your very own dried citrus garlands?
All you need to do is to cut some lemons, limes, and oranges into thin wheels. Line your baking sheets with foil, then place your citrus wheels. Preheat your oven to 200°, then place your baking sheets. Wait till the citrus wheels to be completely dry to touch. It usually takes 2 to 2 ½ hours for the wheels to completely dry, depending on how thin your slices are.
After your wheels are completely dried, let it cool, then you can assemble your garlands using strings and wires. You can hang it on your Christmas tree or your walls and staircase. This makes a good Christmas ornament that can give your home a very fantastic citrus smell.
Pom-Pom Wreath
(source: pinterest.com)
Many of us are used to having the traditional grapevine wreath displayed on the walls during Christmas. However, to make your home looking more festive and colorful, you can make a colorful pom-pom wreath. To make this wreath, you need to first make many pom-poms, maybe around 70 to 75. It will surely take a lot of work, so it is more fun to do it with someone else.
To make a pom-pom, you'll be needing cardboard,  cut into rings of various sizes. Wrap your colorful yarns into your rings. Make sure that there are no gaps and the ring is full. Then you can snip through the wrapped yarn all along the edge of the ring. After cutting all the edges, you can now tie the yarn pieces together around the pom's middle using a yarn length. Then you can remove the cardboard template. Repeat the process and make around 70 to 75 pom poms.
After making tons of little pom-poms, you can now start making the wreath. Be sure to prepare a flat styrofoam wreath form as the base. Using hot glue, stick the little colorful pom-poms around your base. The pattern is based on how you wanted it to look like. Just put in a lot of creativity in color matching.
You can add accents like old Christmas balls, gold jingle bells, or reindeer ornaments to make it more Christmas looking. Attach a string or a sticky hook to put it on display quickly. This will surely add up to the festive vibe in your home.
No-Sew Christmas Stockings
(source: pinterest.com)
To make your own Christmas stockings could be one of the easiest and fun activities to do, especially with your kids. You first need to draw a stocking pattern on a piece of paper. The good thing about this is that you can decide on the stocking size you want to have.
After drawing, cut the pattern. Pin the pattern in an old sweater that you want to recreate into a Christmas stocking. Cut the sweater along with the template that you made. You'll be needing two cut-outs to make a stocking. Stick your cut-outs together using hot glue.
Remember not to stick the opening. After attaching the two pieces, turn your stocking inside out. Then you can add your decorations based on how you want your stocking to look.
Pine Cone Tree Christmas Decoration
(source: pinterest.com)
Pine cones go well with none other than your Christmas tree. So it's time to gather some pine cones and turn them into a cute Christmas tree decoration. Give your pine cones a quick rinse to remove the dirt and dust. Dry it completely.
You can use a blower to dry everything out quickly. After drying your pine cones, you can paint it with any color you want, depending on the theme you have for your Christmas tree. You can paint it with Christmas colors like green, red, or even white.
Try to use quick-dry craft paint, not taking a lot of time waiting for your paint to dry. You can also use small brushes to paint the pine cone entirely. After the paint has dried, you can now decorate the pin cones according to the designs that you want. You may put beads, little pom-poms, glitters, and other colorful embellishments that you have. Then you can tie a string on top of your pine cones. Now it is ready to decorate your Christmas tree.
Key Takeaway
Our DIY Christmas Decor suggestions are an excellent way for you to be more productive before the holidays come! It will help you prepare your house to look ready for Christmas and have the Christmas feels at home!