We have reached 200 Google Reviews. All businesses always value reviews because it serves as a roadmap to see where they are as a business. Thus, it helps companies to evaluate the products and services they offer. For that reason,  The Inspection Boys also value every review we receive from our clients, whether it's good or bad. 
As one of the best home inspection companies in Long Island, it is always our goal to have a good relationship with our clients because they are our top priority. We do that by serving them excellently through our home inspection services.  
We do not want mediocrity to part of our reputation. No business would like to have a bad reputation. It will only make companies suffer and eventually lead to closing down. That's why we always put a premium on our home inspection services so that people who need those will only experience what is best from us. Aside from our reputation, we do not settle with mediocrity because we believe our clients deserve the best possible offer.
Today, The Inspection Boys have received 200 reviews on Google Review, and we got a 4.9-star rating. This achievement calls for a celebration right now! It only reflects how people love The Inspection Boys and the services that we offer. Indeed, this gives us more motivation to keep working hard to serve people around Long Island better.
(You may also want to check out
the Google Reviews: The Inspection Boys that we wrote last August.
)
Here are some photos that you want to see how The Inspection Boys are doing in the Google Review: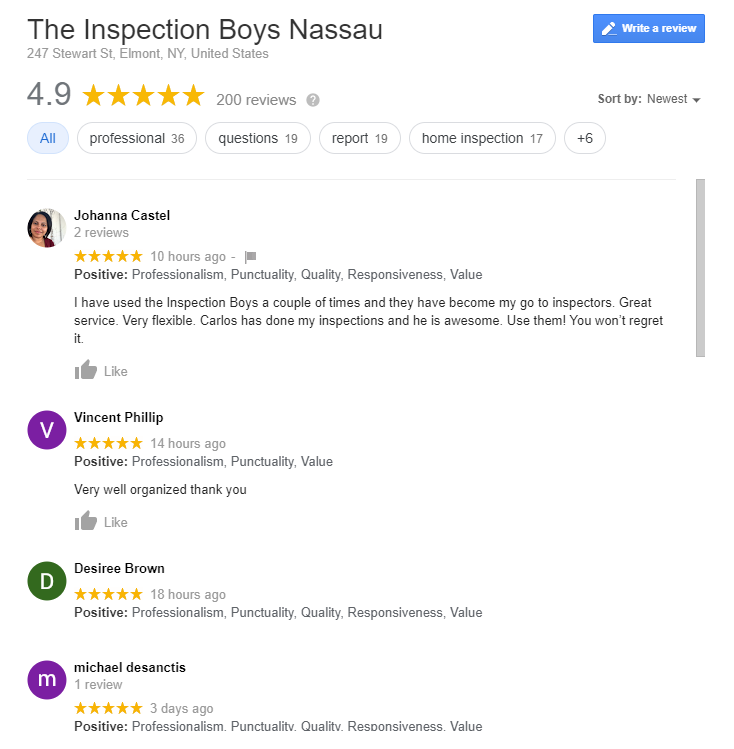 We are sharing with you some other reviews.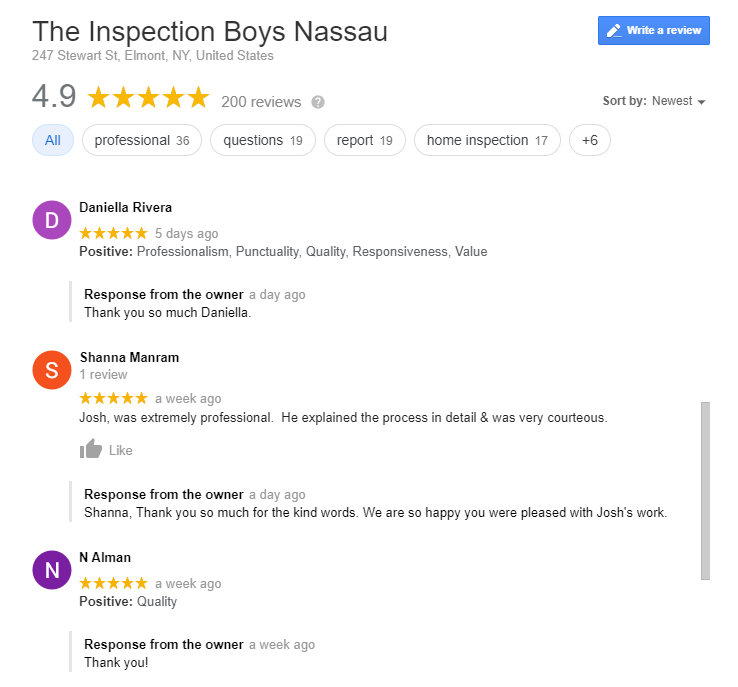 Here's another image to see the other reviews: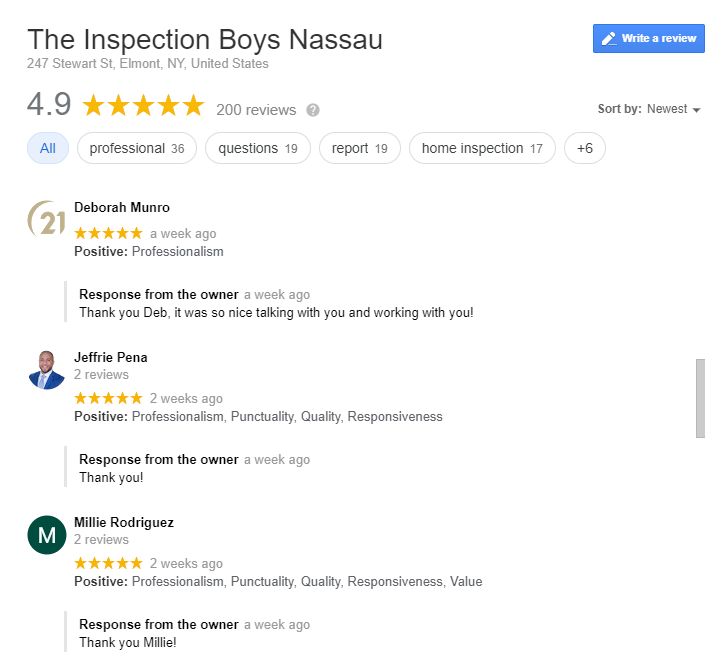 The whole team of The Inspection Boys is deeply thrilled and grateful for everyone who gave us great reviews. It only speaks of the great job we are doing. As we all know, getting great reviews isn't something all businesses receive; that's why we truly appreciate everyone who went out of their way to give us thoughts. 
We just want to say, "Thank you!" 
All of you are always on top of our minds and hearts; that's why we will continue to be better and do better in what we do as a home inspection company. We can never do it on our own because our valued clients are always part of our team. 
In conclusion, The Inspection Boys are genuinely honored and privileged by the 200 reviews we have received since we have established our Google My Business profile. We cannot find appropriate words to express what we feel over the achievement we have received. We just wanted to share this achievement with all of you because you are all part of this. 
For those who would like to give us reviews, you may search us on Google by typing
"The Inspection Boys Nassau, Elmont NY."
And there you can start giving us your feedback, comment, and other things you want to say. We are looking forward to hearing from you!  It is an assurance that we will respond to what you will be speaking.