Milestones after milestones are what The Inspection Boys are receiving the past months since 2020. Various organizations (one of them is this award we got last month)  have recognized us for our excellent services, and even our own clients attest to that. We are grateful for that. Whether positive or negative, they are getting reviews to help one's business because it allows the company to see its target market's lens––if they are doing a great job or not. It helps a business tweak its products and services based on the target market's reviews. 
Today, we have reached another two milestones––we now have 508 and counting reviews on Porch, with a 4.94 rating. Meanwhile, we also now have 300 Google Reviews and counting. It means so much to the whole team of The Inspection Boys that we are being recognized for what we do as a home inspection company. 
The Porch Reviews
Here's how The Inspection Boys look like on Porch: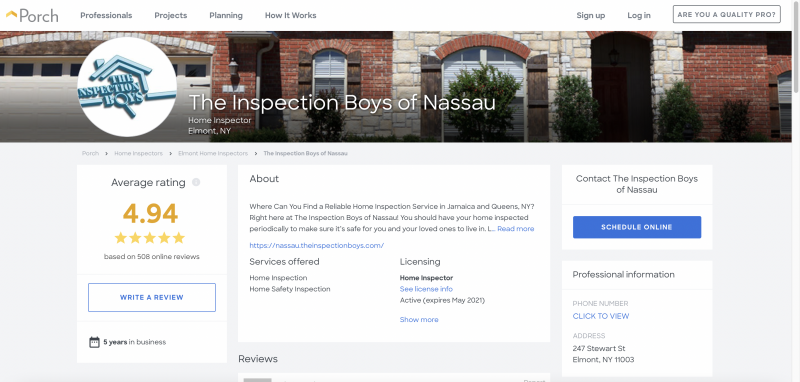 The Inspection Boys has an average rating of 4.94 based on the 508 online reviews. It is an excellent rating which only means that people love the home inspection services that The Inspection Boys are offering. 
Now let us take a look at some of the reviews that people gave to The Inspection Boys: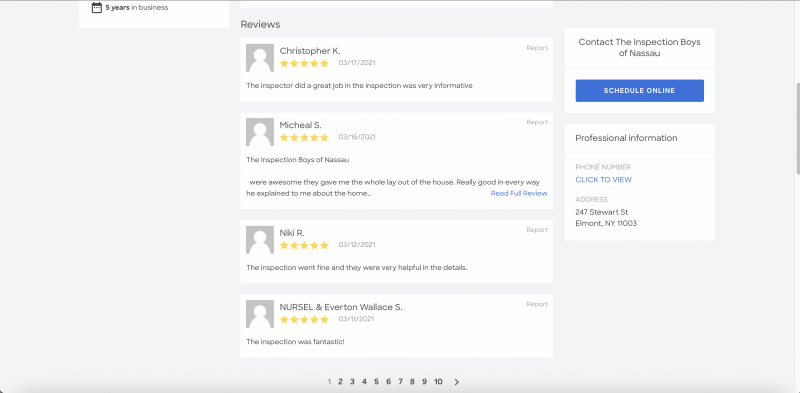 We can see here that the comments left by our previous clients were all "positive." Look at what Christopher K. said, "The inspector did a great job in the inspection was very informative!" He only meant one thing, and it was that the home inspector who conducted the home inspection did an excellent job. 
The Inspection Boys value every review that people give, whether that's positive or negative. It is because we want to be in communication with our customers and know that we value them. We put a premium on giving our excellence every time we conduct home inspections. We desire to make people feel our excellent home inspection services.
To everyone who is part of the 500 Porch reviews, we appreciate your feedback on our services.
Google Reviews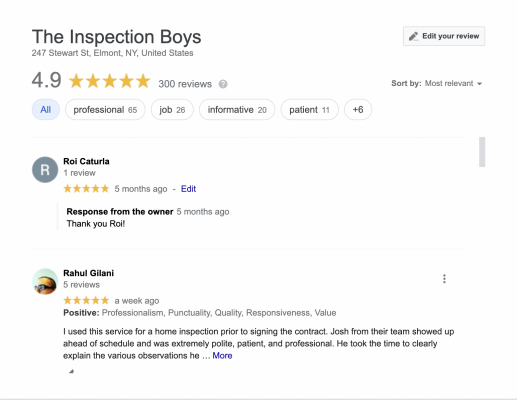 Last October 2020, we reached the 200th mark for the reviews that The Inspection Boys got on Google Reviews. And this March 2021, we have finally reached the 300th mark for the reviews we have on Google. 
We want to thank everyone for taking their time to give us comments or reviews, whether that's positive or negative. 
We will continue to give our best in offering everyone excellent home inspection services. The whole team of The Inspection Boys will continue to improve what needs to be improved. Everyone can count on us.
After the great online reviews, now what?
The Inspection Boys has made so much great strides in the past months by receiving recognitions and great reviews from different organizations and people. We couldn't thank everyone enough because words are not enough to appreciate everyone for making all of these happen.
We want more people to experience quality home inspection. Should you be interested in having home inspection services, you can contact The Inspection Boys. Let's talk!